Porcelain Veneers Melbourne
Veneers Instantly Improve your Smile
& Overall Appearance
Improve Shape, Size, and Colour with Melbourne Porcelain Veneers
A veneer or dental veneers is a custom-made thin overlay that fits over the facing surface of teeth to enhance your dream smile.
Teeth porcelain veneers can completely reshape your front teeth and transform your smile.
Dental veneers can often be alternatives to porcelain crowns and the ideal solution in treating many cosmetic dentistry conditions.
Dental veneers are often used to correct your smile, eliminate the look of crooked, chipped, uneven or dark front teeth.
Veneers Tailored For You
Reasons for porcelain veneers, composite veneers, or resin veneers:
Cosmetically, to create a uniform, white, beautiful smile
Crooked front teeth
Misshaped front teeth
Severely discoloured or stained teeth
Teeth that are too small or large
Unwanted, uneven spaces or gaps
Worn or chipped teeth
Tooth structure issues
Tooth enamel discolouration
Benefits of Porcelain Veneers
Veneers are less invasive approach to braces or other orthodontic treatments.
If you choose to remove or replace your veneers, the underlying teeth will still be healthy and functional afterwards, provided the treatment plan Dr Kasen outlines.
Many of Dr Kasen's patients choose to place veneers on their front teeth, or the teeth that are most visible.
Dr Kasen is one of the most sought veneer specialists in the Melbourne area.
Once your teeth porcelain veneers are placed, your smile makeover will literally light up the room.
Patients that get dental veneers from appropriate cosmetic dental practices often remark how their self-esteem and self-confidence are improved.
We are often told stories where patients are told they look younger, happier and healthier with their new porcelain veneers, composite veneers, or resin veneers.
All because of our treatment plan for veneers in Melbourne, Australia.
Porcelain Veneers Before and After
Female patient 55 years old
Presented with heavily stained, worn and "old" looking teeth. Patient wanted a cosmetic make-over that matched her elegance, style and personality.
The dental services treatment plan by Dr Kasen
6 DaVinci Luxe 3D stained monolithic porcelain veneers. Patient returned for 6 more dental veneers on her bottom from teeth and 12 crowns.
These are the moments that make our health practitioner and team at Signature Dentistry smile as brightly as our patients.
Getting veneers is also less invasive than porcelain crowns, as they do not require shaping your gums or teeth for placement.
Contact us to learn more about our porcelain veneers options.
There are many porcelain veneers but not all are created equal.
There is a plethora of materials available as there are dentists available to place dental veneers.
Dr Kasen, regarded as one of the best cosmetic dentists in Melbourne, uses only the highest quality materials for veneers.
The porcelain veneers cost can vary among materials, so it is best to speak to Dr Kasen at your smile consultation.
Dr Kasen, an appropriately qualified health practitioner, takes specialist interest in minimal preparation for porcelain veneers, composite veneers, and resin veneers.
This means he removes the least amount of natural tooth to achieve the maximum and lasting results.
Most veneers require removing a portion of the natural tooth to create room for the new porcelain veneer or resin veneers.
Dr Kasen will also work with you on the aesthetic goals of your appearance, and give you suitable options that complement your face and smile.
Dr Kasen's skill set allows him to remove as little as 0.3 of a millimeter of your natural tooth for a better smile journey experience.
Veneers Payment Plan – Payment Plan Options
$79 per week for 48 months

6 Veneers

–>
Why is it so important to remove as little tooth as possible?
By preserving as much tooth as possible i.e. removing as little tooth as possible, you can be rest assured:
The nerve health is maintained
The strength of the tooth is at a maximum
The veneer will last a long time
What to Expect When Getting Veneers
Dr Kasen will spend at least one appointment planning and designing your smile makeover for dental veneers, a process you are intimately involved in.
You should expect to see Dr Kasen a minimum of 3 times from the initial consultation to the placement of your new veneers, with additional follow-up appointments to make sure you are comfortable.
Dr Kasen's personalised approach is to achieve results that bring upon your beautiful new smile, as well as a comprehensive approach to polish your teeth and fine tune your bite over several clinical appointments in his Melbourne office.
Also, Dr Kasen also supports efforts to seek a second opinion, as it is important to understand the quality of the treatment plan you will be doing.
Dr Kasen's approach to veneers is comprehensive, and his optimal goal is to provide you a long lasting smile for many years to come.
Once the smile design has been established, you will have the opportunity to trial the smile makeover in your mouth as part of our mock up phase of treatment.
Time is taken to assess your speech, bite and overall aesthetics.
Any adjustments are digitally recorded and transferred using the latest state-of-the-art equipment to your new smile design.
Once you and Dr Kasen agree on the look, you are ready for your porcelain veneers or resin veneers treatment.
Book an appointment with Dr Kasen, payment plan options are available.
Porcelain Veneers Before and After
Male patient 50 years old
Presented with heavily stained teeth from previous cosmetic dentist. Patient wanted a cosmetic make-over that would improve his smile makeover but not make his teeth look "fake."
The treatment plan by Dr Kasen
12 DaVinci Luxe 3D stained monolithic veneers porcelain. After 12 years, these veneers still look amazing!
The Porcelain Veneer Procedure
On the day of the procedure, Dr Kasen will anaesthetize you and prepare your teeth for veneers.
This is a very meticulous process to ensure the minimal amount of tooth is removed before placing the porcelain material and dental veneers.
Any fillings that are required are replaced at the same time.
Once the teeth are prepared, either a digital scan or physical impression mould are taken of your teeth and your veneers are made by a master ceramist to create your new smile.
Temp veneers are then placed on your teeth whilst the veneers are made by a master ceramist.
You should expect to wear your temporary veneers from 1 to 3 weeks.
While you are waiting for your final veneers, you will get to test out how your new veneer(s) will feel, and give you the opportunity to provide feedback (and validation purposes) to Dr Kasen on the look and feel of your temp veneer.
When your porcelain material veneers are ready from the master ceramists, you once again will be anaesthetized.
The veneers will be removed and the new ceramic ones bonded on to your teeth.
The veneer procedure can take 3 – 4 hours and performed under a local anesthetic or numbing agents.
Once bonded, your new porcelain veneers will look and feel great.
If you have a question about the veneers procedure, contact us.
After the Porcelain Veneers Procedure
Dr Kasen will want you to schedule a follow-up appointment within a few weeks to make sure your gums and bite are progressing nicely.
How long do veneers last?
After time, properly installed veneers last 10 years to 25 years, the porcelain veneers may need to be replaced.
Veneers are very resilient, and almost as strong and tough as your teeth.
Gum tissue also tolerates the veneers very well.
Routine professional dental cleanings, check ups, x rays, brushing and flossing will help to extend the length of your veneers.
If you crack your new veneers, it is important to see a dentist right away to assess the damage.
It is also important to note that like your regular teeth, veneers can stain – so it is always recommended to reduce the consumption of red wine, coffee, and other drinks that can cause staining.
If you play contact sports, you should also wear a mouth guard, and if you grind your teeth at night you should consider a retainer.
Porcelain Veneers Before and After
Extremely nervous female patient 58 years old
Presented with heavily stained, worn and very sensitive teeth. She wanted a natural looking sophisticated cosmetic make-over that was more!
She did not want super white teeth, she wanted teeth that belonged to her and not look like a "cookie cut" smile makeover, she did not want her teeth to "stand out" and most of all she wanted to eliminate the sensitivity.
The treatment by Dr Kasen – appropriately qualified health practitioner
6 DaVinci Luxe 3D stained monolithic porcelain veneers. Needless to say, she looks amazing and her friends think she looks gorgeous but can't work out why – 8 years later they have no idea it was her teeth that made the difference!
Ready to schedule your appointment for veneers in Melbourne?
Payment plans are available.
Does Getting Dental Veneers Hurt?
The temporary veneers may be sore as it adapts to your mouth, and the procedure itself can be uncomfortable.
Dr Kasen will use a local anesthetic or numbing agents to help alleviate the pain.
After the procedure, your mouth may be sore for a few days, but if it lasts longer, contact Dr Kasen as soon as possible.
Porcelain Veneers Porcelain Veneers Cost Melbourne
How much do veneers cost?
The porcelain veneers cost can slightly vary between patients.
A general cost for veneers at Signature Dentistry ranges from $1999 – $2499.
The cost always varies on the smile design, as more complex cases may require additional dental treatments.
Dr Kasen can provide an exact porcelain veneers cost by booking a free smile consultation for veneers.
Payment plan options for veneers are also available.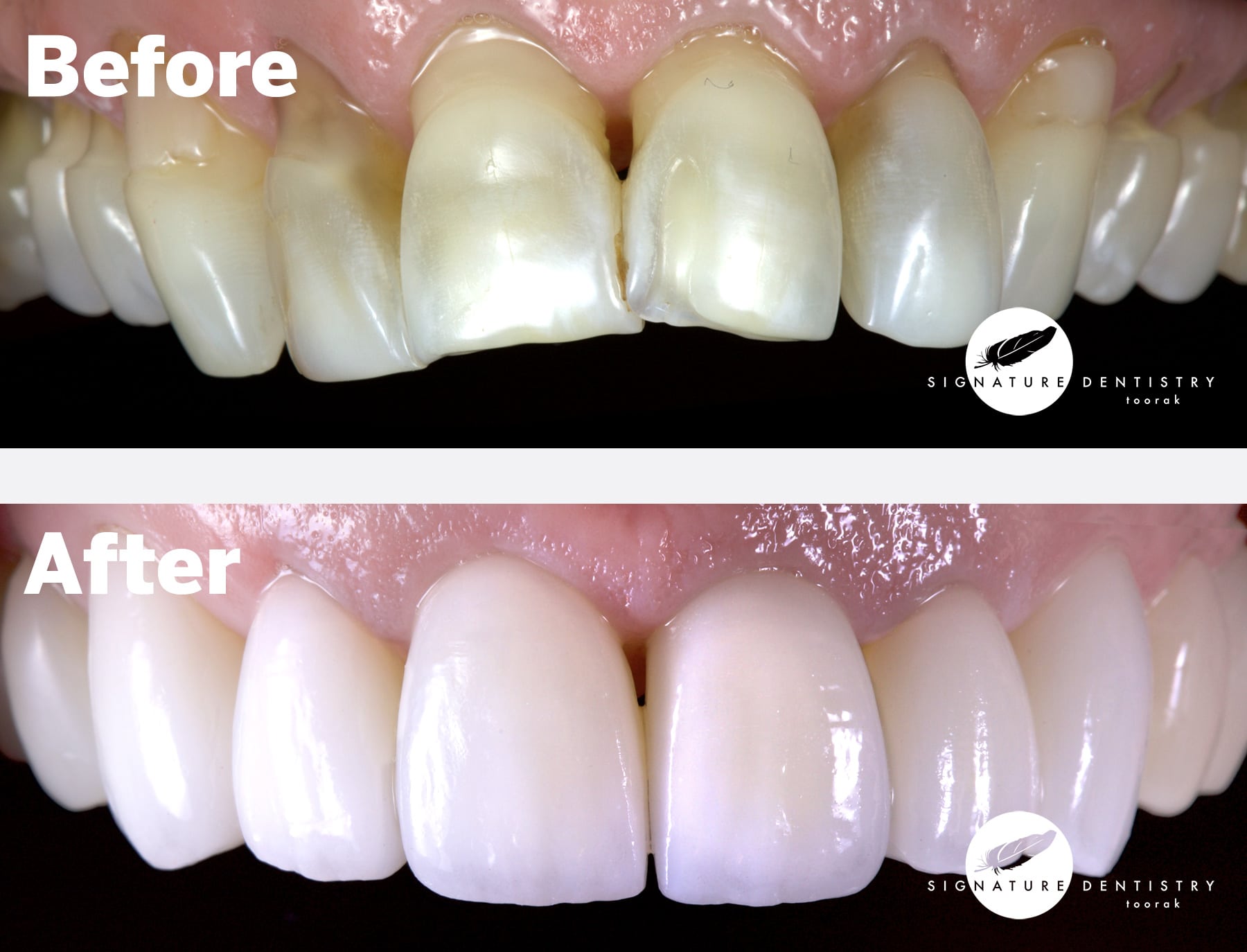 Porcelain Veneers Before and After
A New Veneer Patient Consultation
This patient wanted to improve her smile and correct the appearance of her front teeth.
After a thorough assessment of her gum health and the condition of her teeth, Dr Kasen determined that 6 Signature Porcelain Veneers and 2 resin veneers were needed to achieve the results she was looking for.
The natural uneven teeth spacing, rotations and receded gums, provided extra layers of complexity to obtain a successful outcome. Dr Kasen needed to carefully plan around each of these issues and asymmetries to provide a natural looking harmonious smile.
When seeking an experienced cosmetic veneer dentist, it is important to understand that not all dentists are the same.
Dr Kasen utilizes bespoke, custom design for all of his Signature porcelain veneers, and has a dedicated focus on delivering gorgeous, natural results. Every time.
Are Veneers Covered by Insurance?
It is best to contact your insurance company on what is covered and what isn't.
During your free initial consultation, Dr Kasen can provide an itemised list of costs that can be presented for health insurance purposes.
If you are thinking about veneers and want to preserve your natural teeth with cosmetic dentistry, contact one of the best cosmetic dentists in Melbourne by using our book appointment form or call our office on 9826 1338.
Dr Kasen will be happy to schedule a free veneer consultation with you and discuss your options.